World's first Winter Olympic Museum
The world's first Winter Olympics Museum; for the Beijing 2022 Winter Olympics. This pivotal museum will extend the legacy of the 2008 Beijing Olympics into an enduring strategy for the Olympics to become a catalyst for sustainable social and economic development
Beijing 2022 – sustainable Olympics
According to IOC president Thomas Bach, Beijing 2022 is to "set a new bench mark for a sustainable Olympic Games, on the one hand benefiting from the legacy of the Beijing 2008 Games and on the other hand developing a new winter sports destination in a sustainable way". Being the first city in the world to host both the Summer and Winter Olympics, Beijing will be showcasing a twofold strategy of reuse and rejuvenation for urban venues and sustainable development for regional venues providing infrastructure and long term benefits to rural regions.
Making full use of the legacy venues of Beijing 2008 as well as Shougang – the spectacular former steel plant, Beijing's urban area will host all the ice events (curling, ice hockey and skating), four snow events (snowboard big air and freestyle skiing big air, men's and women's) and the newBig Air Snowboarding event. Two key regional centers: Yanqing, home to the Great Wall, and Chongli, an existing skiing destination are to host the alpine skiing, sliding, and all other snow events respectively. A new highway and high speed train will connect the Chongli region to Beijing in 46 minutes.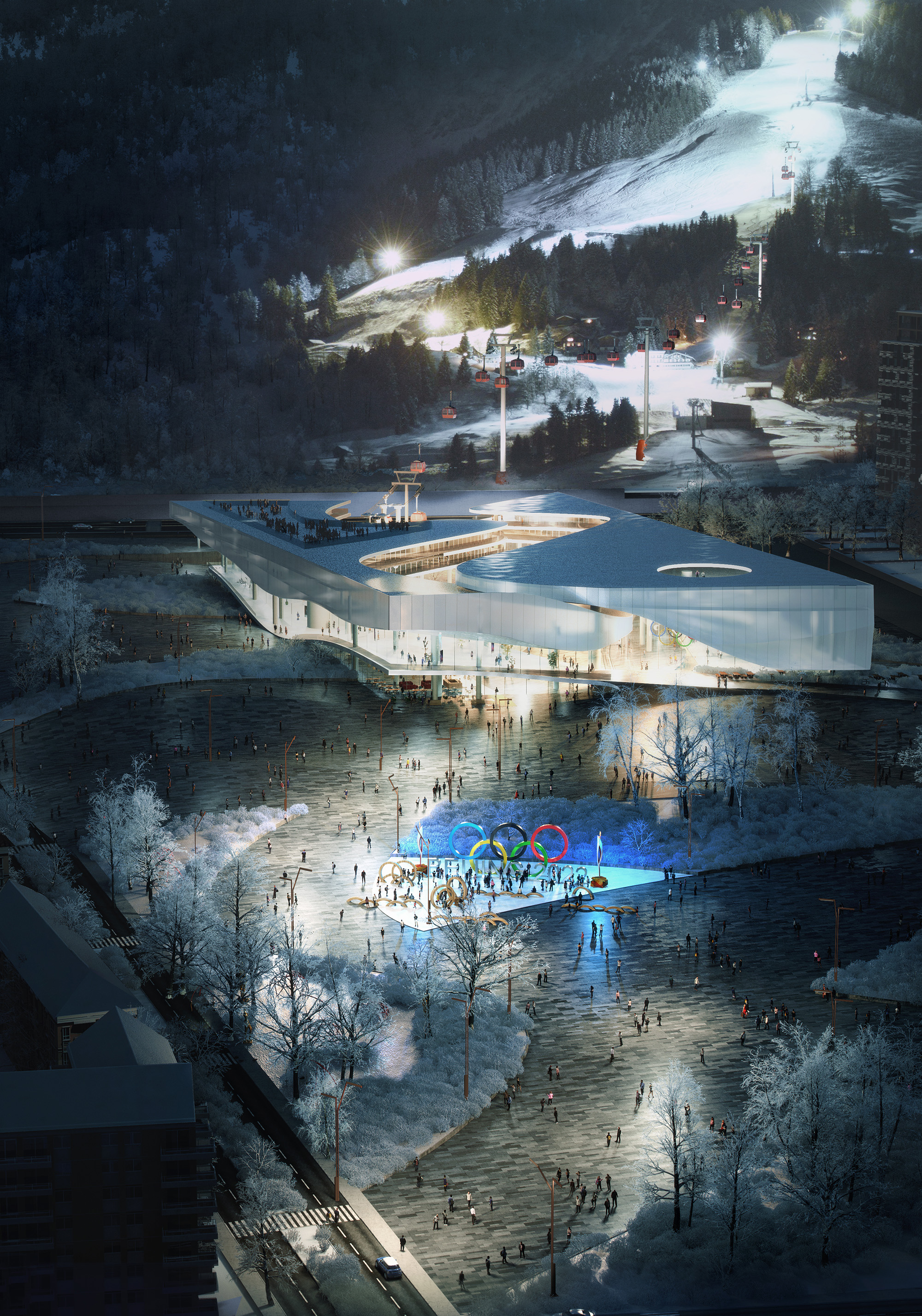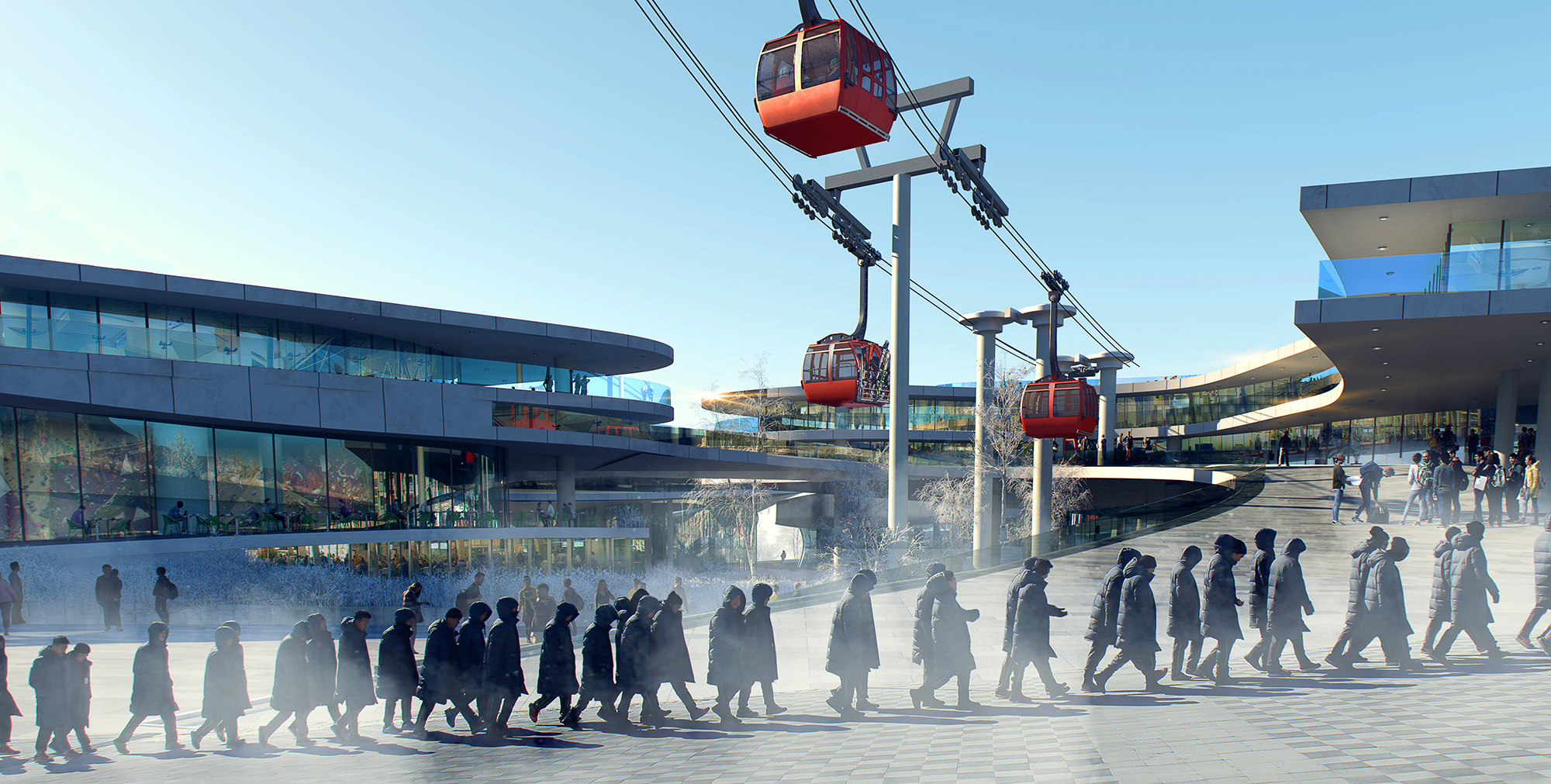 Integrating Landscape and Architecture.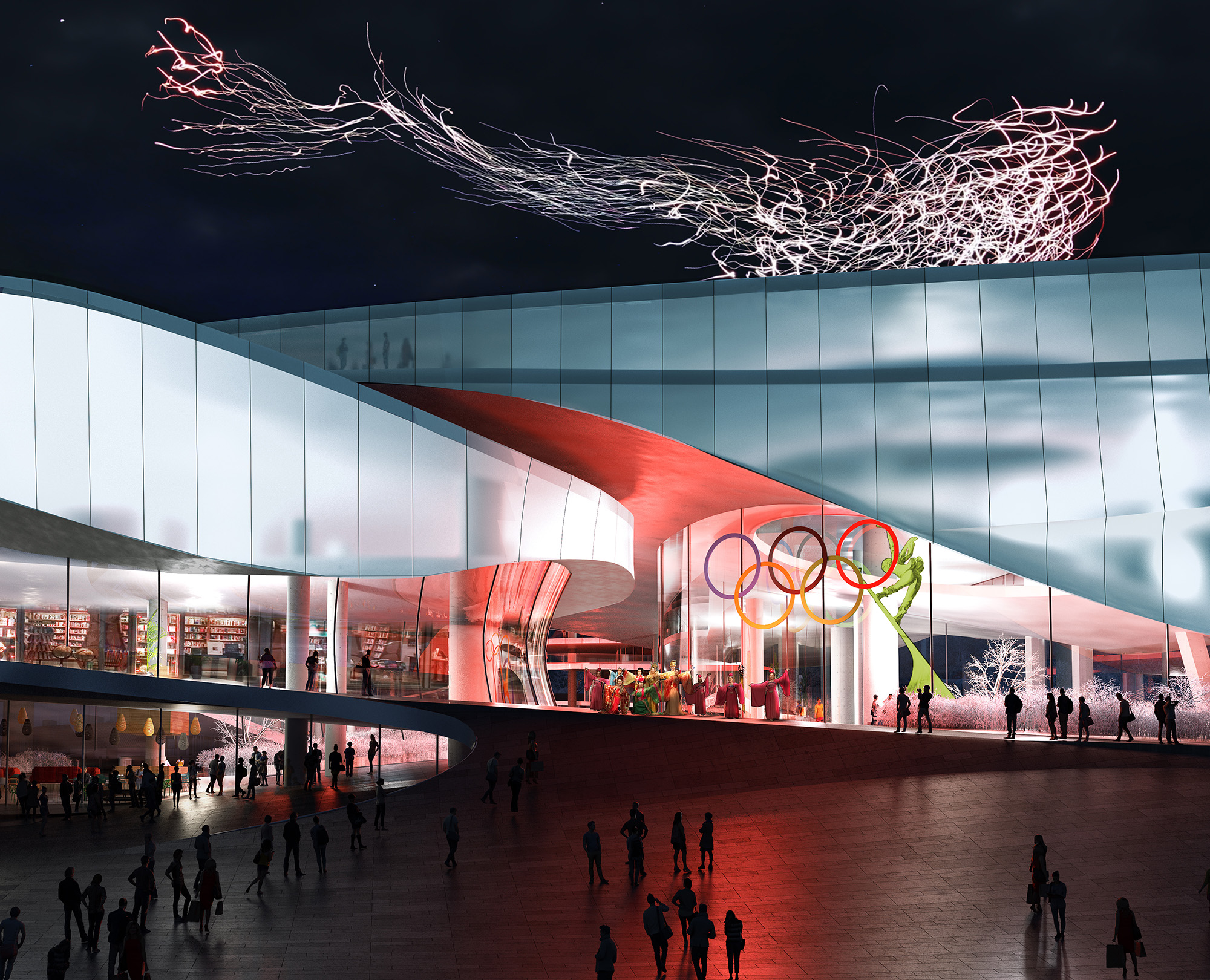 Chongli – the center of China's winter sports future
For Chongli, this is a critical opportunity to become the center of development of winter sport in China, utilising it's natural mountainous resources and giving back long term opportunities for the rural region. It is in this spirit that the Chongli local government conceived a plan to revitalize the town center with the addition of the world's first Winter Sports Museum and Academy to best convey the Olympic Spirit to future generations. Following an open public bidding process, maison h was selected for a competition with two other teams for both the building design and town center redevelopment.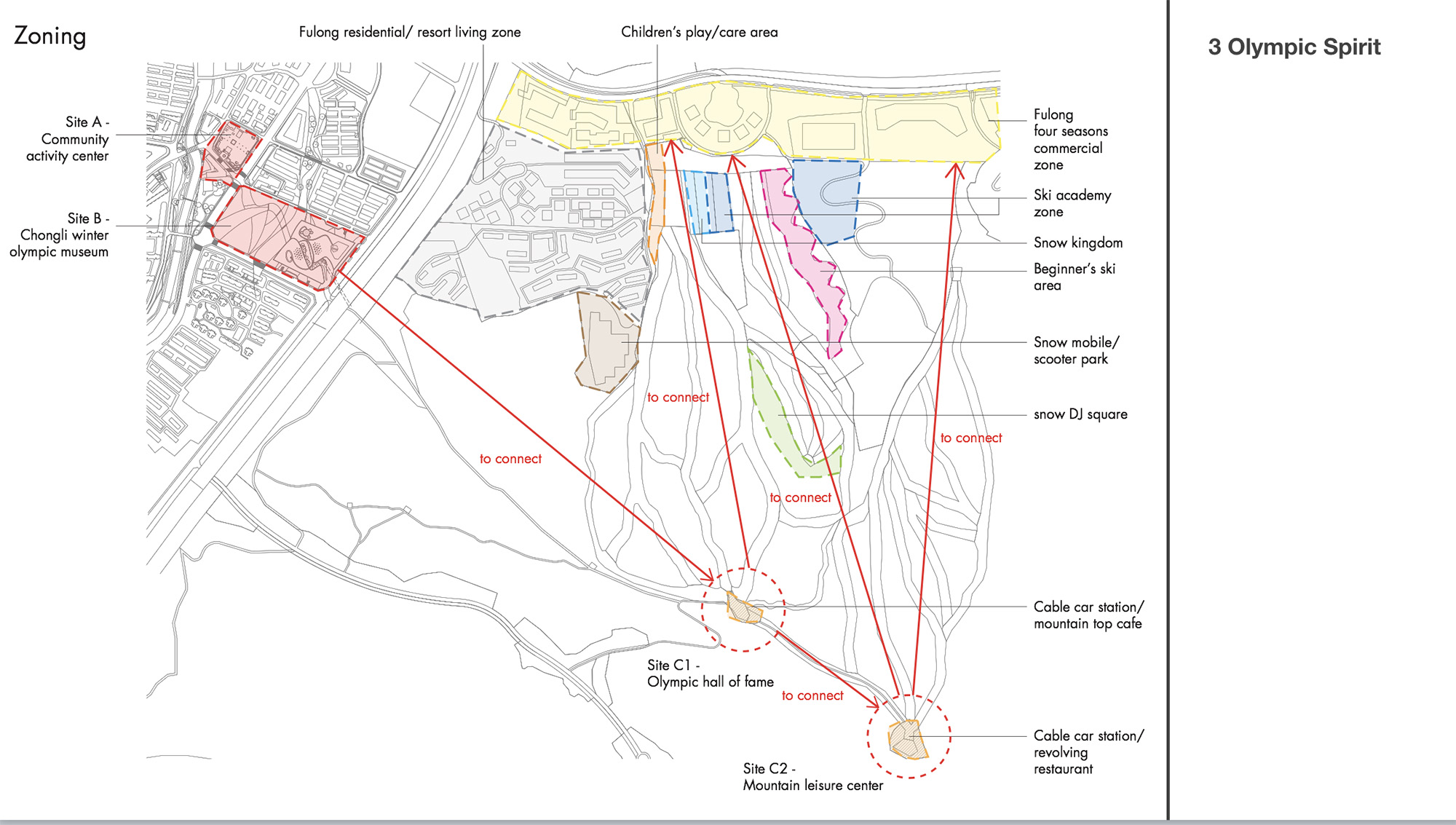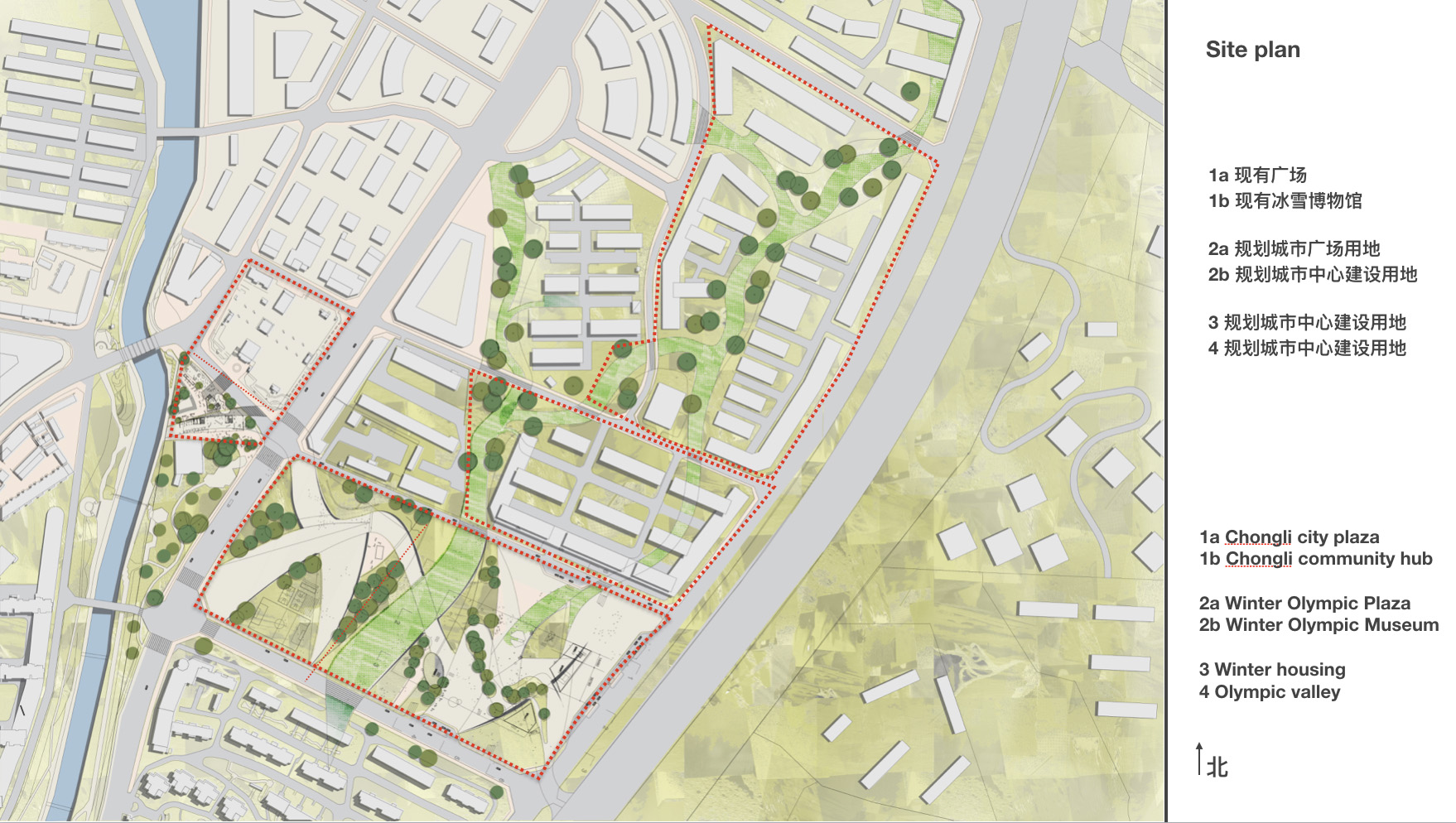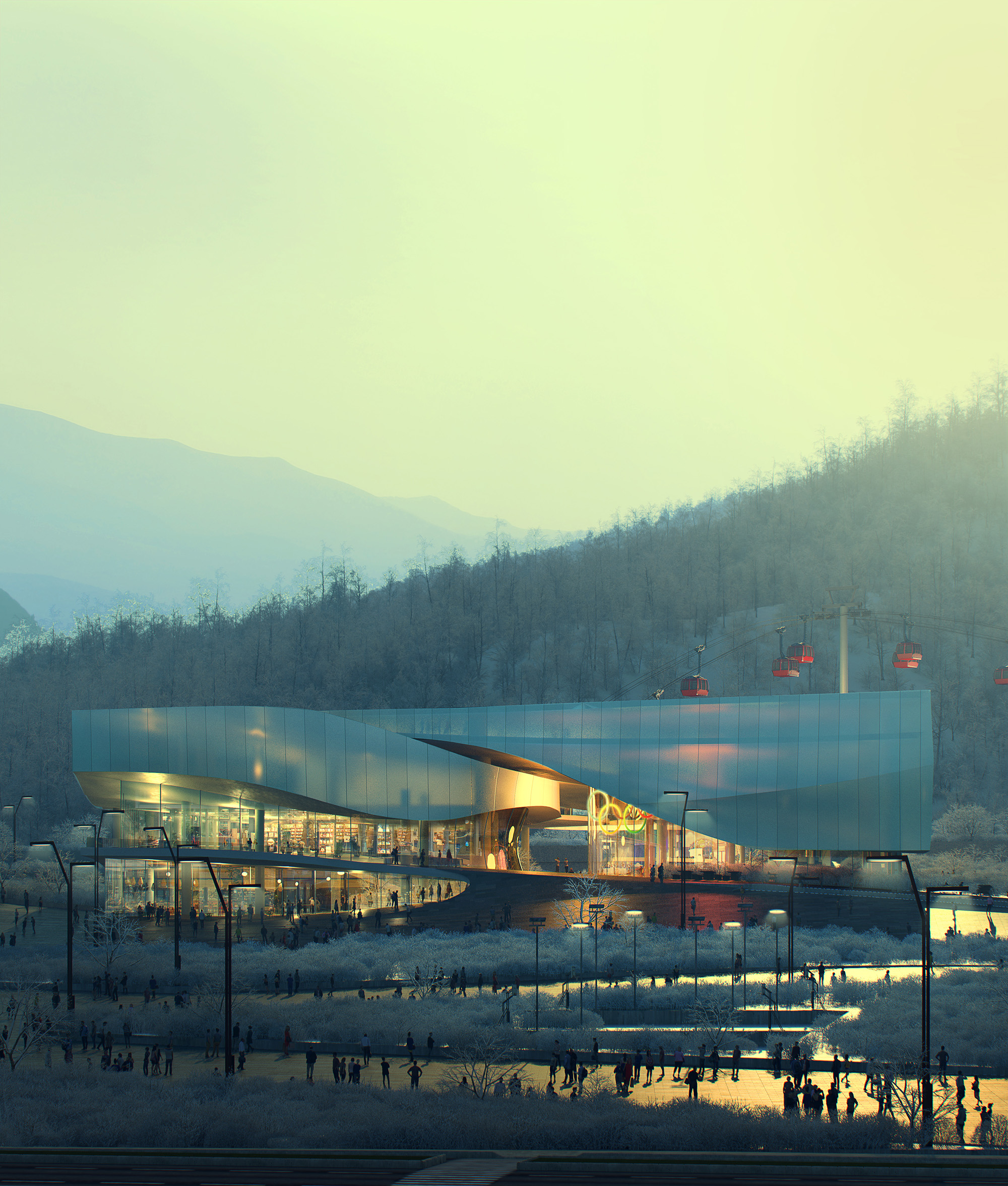 World's first Winter Olympic Museum and Academy
In order to initiate Chongli as China's leading winter sport destination, the Winter Olympic Museum needed to be much more than museum. In addition to exhibition venues, maison h conceived a specific program that also include a dedicated Olympic Academy with libraries and research facilities focused on the Winter Olympics, Youth Olympic Training Center, VR Experience Center, Mountain Sports Center, Cable car station and related commercial as well as conference facilities; an integral plan to lift the region's economy in a sustainable way.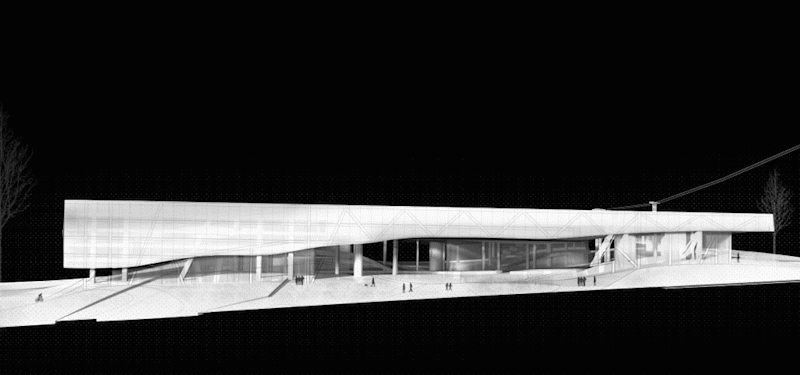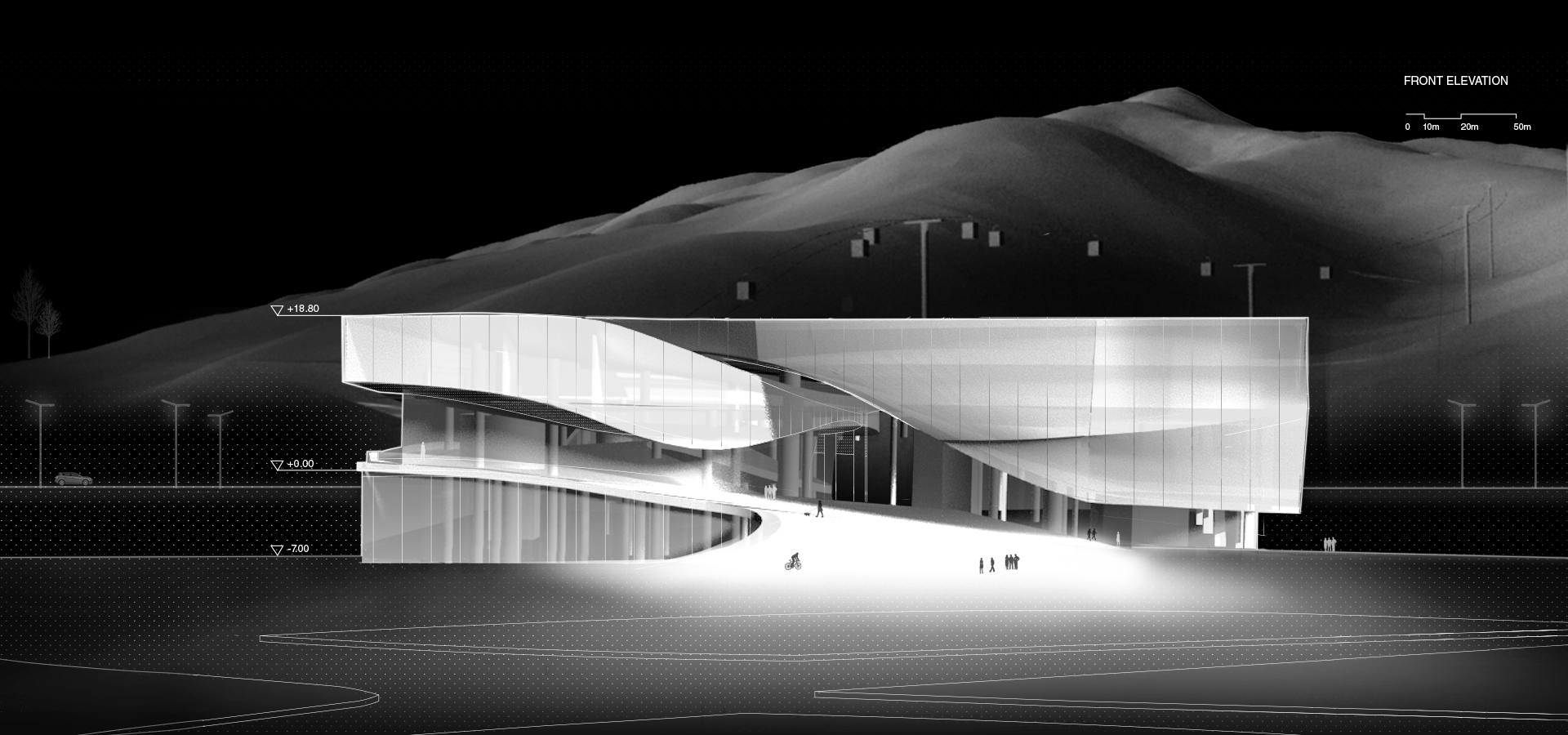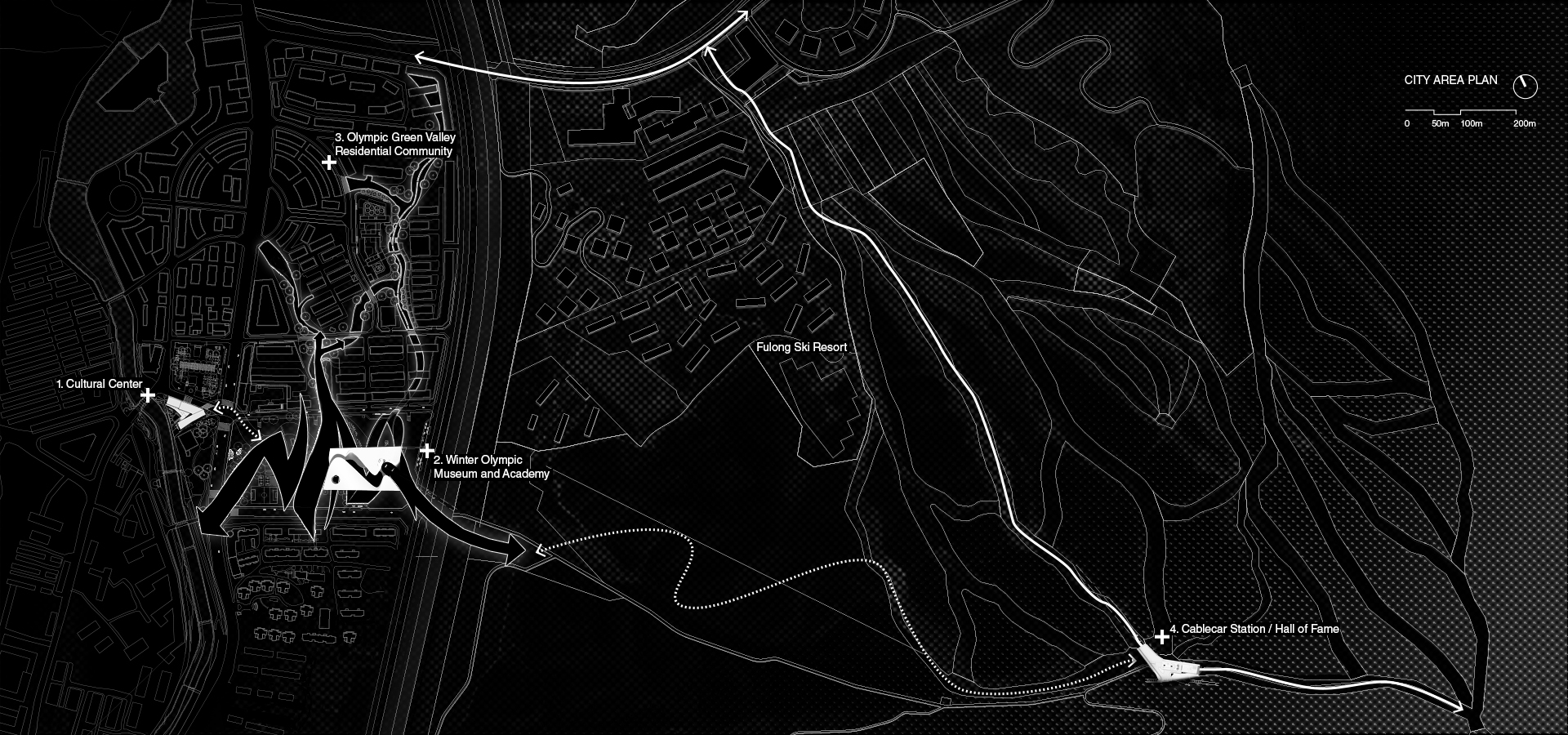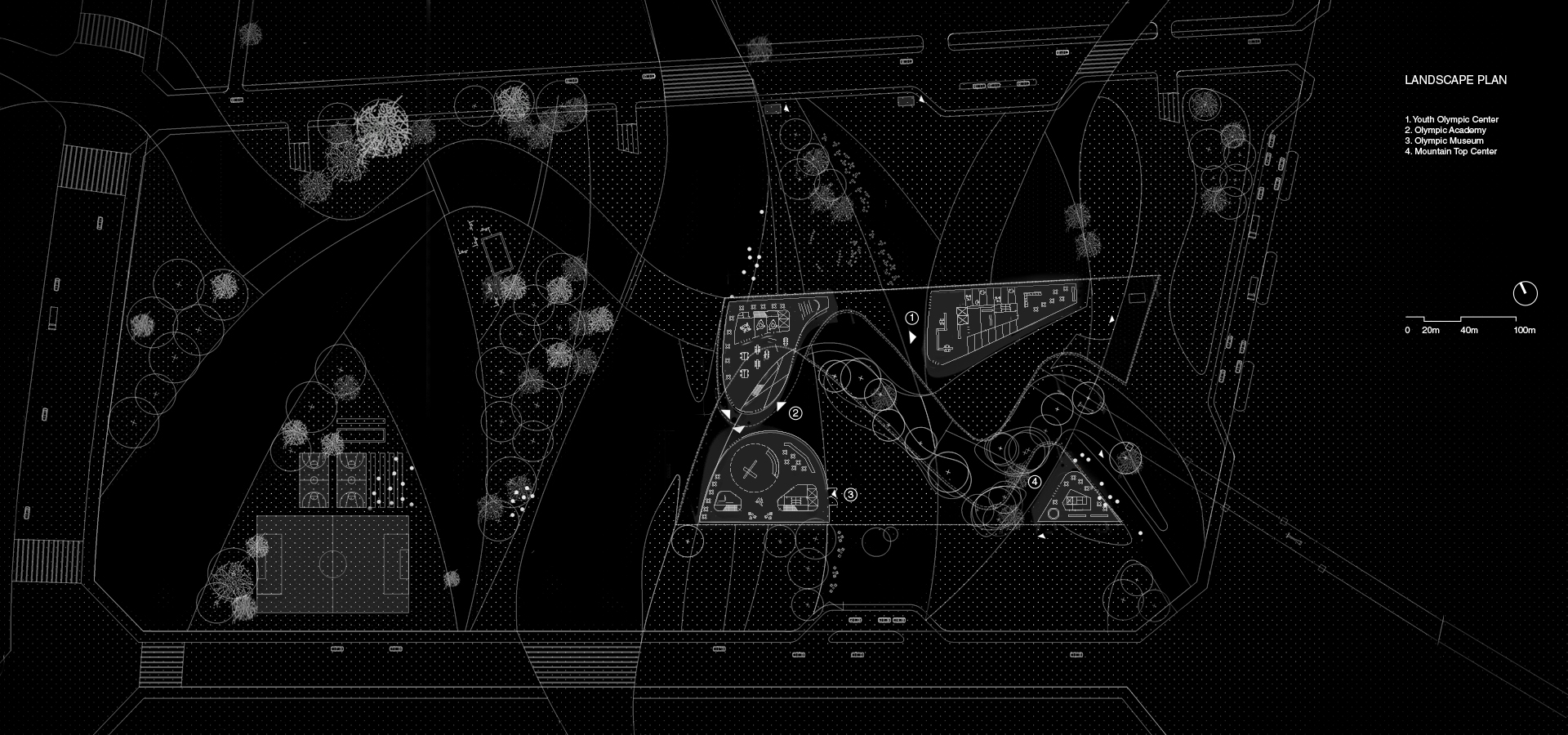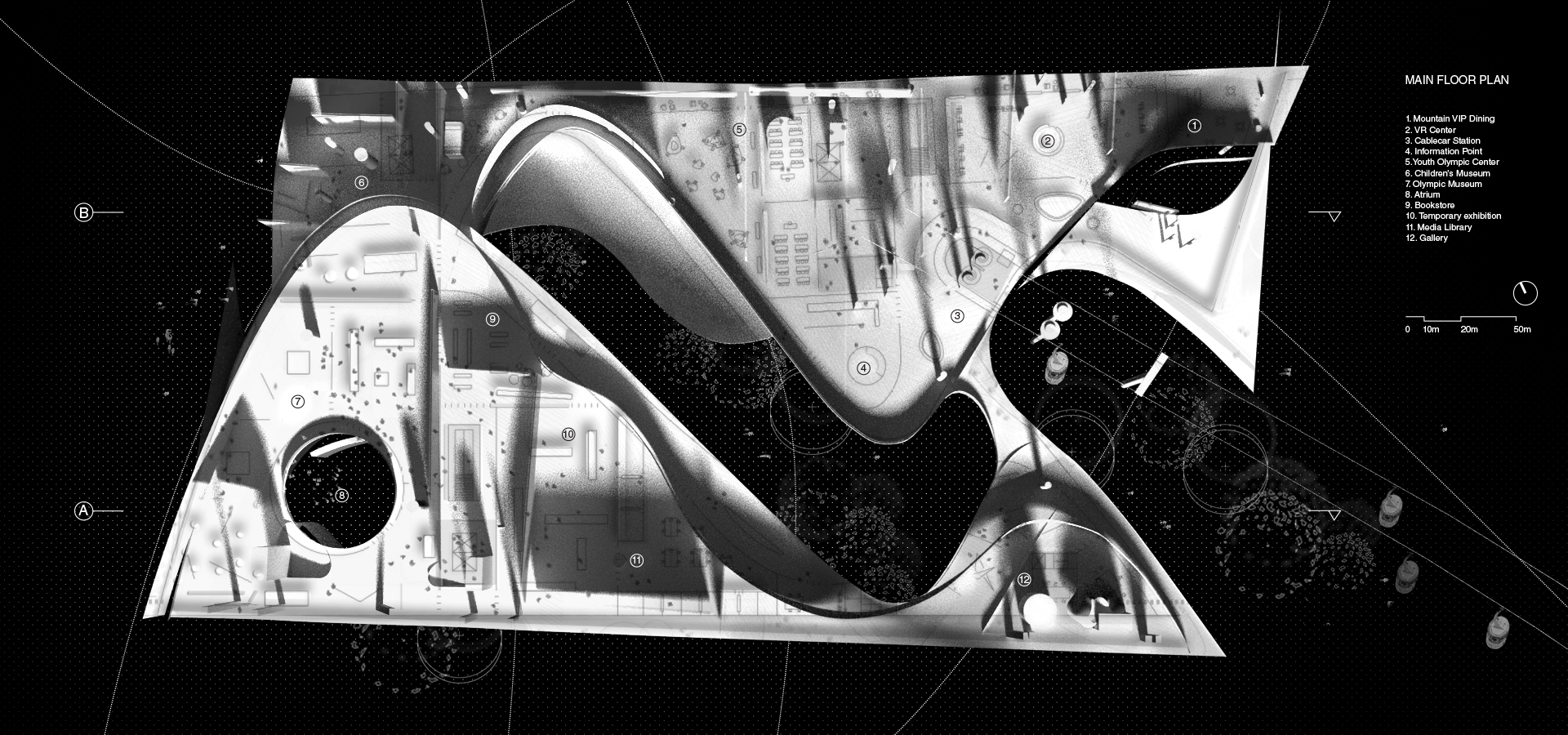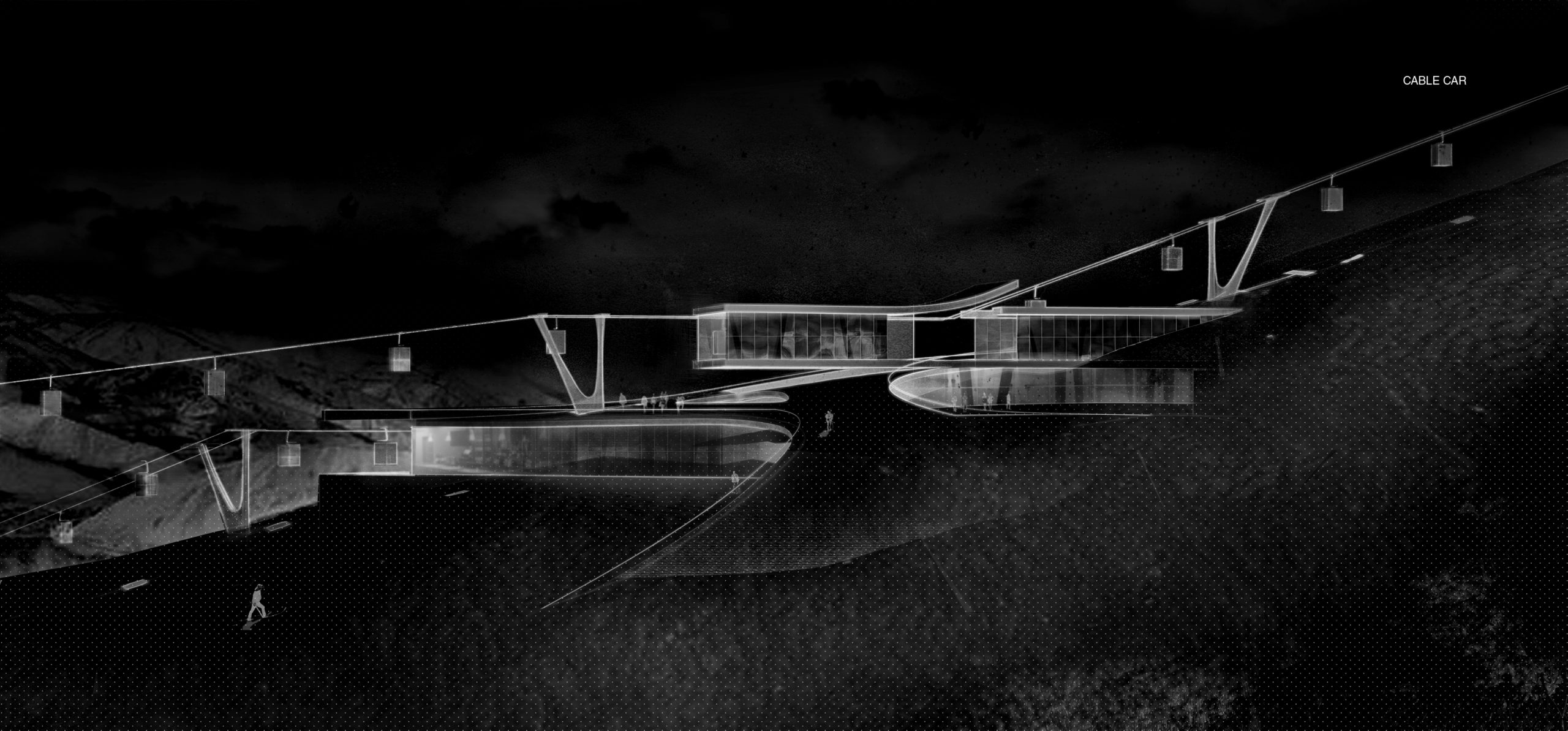 Team: Martijn de Geus, Thomas Mellegaard, Victor Tee, Oxana Sosnitskaya, Han Zhang
Renders by: Proloog 
Project Year: 2018
Location: Chongli, Beijing, China